Top tips for positioning your property for the post-Christmas property surge
This year, we've seen the property market shift to a more neutral market, with the speed of house sales slowing. So, what does this mean? Well for a start, home buyers have more choice, and no longer feel the need to rush into a sale. This makes it more important than ever to stand out from the crowd and ensure you highlight what makes your property different. With increased talk of uncertainty surrounding Brexit, many property experts forecast its impact to be short term, and that 'widespread price reductions' are not the way to go.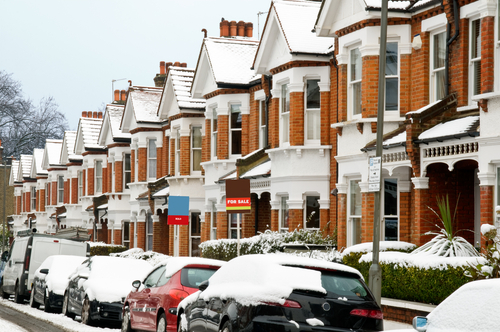 What does this mean for sellers? And how can you be positioning yourself to ensure you get the very best price when selling your property on the market? In this article, we'll be exploring some facts and figures into buyer behaviour, as well as some top tips on how you can position your property for the post-Christmas surge.
Choosing the right estate agent is essential, and is often the difference for how long your property is listed & its final sale price. At Castles, we care about property, and will go that extra mile for every one of our customers. Begin your property journey with us today by booking a free property valuation, or by calling one of our friendly and experienced team on 01793 611677.
The post-Christmas property surge
Between boxing day and the new year, there is a huge influx of home sellers looking to move. With more property owners looking for a new home, this not only increases the number of people looking to buy but also the number of people looking to sell. This 'property surge' is evident in Rightmove's Google Analytics website traffic between the periods of January - March 2017 compared to October - December 2016 - seeing an increase of 26% throughout the first 3 months of the year.
So, how does this affect those looking to sell? Well, it means that between now and the new year you should be doing everything you can to make your property stand out from the crowd. With this increased activity in the property market, being listed online isn't enough. Just because more people are searching, it doesn't mean your property will be found - nor does it mean that reducing your property value is the right course of action.
What you can do to stand out
Getting your property in shape for buyers is essential to any property journey - and a few cosmetic improvements can go a long way on first impressions for potential buyers. By having your home in the very best condition ready for the post-Christmas surge can help you stand out, and our agents will make sure you stand out to the right people.
At Castles Estate Agents, our property experts are experienced in understanding market trends and activity and can provide comprehensive advice and information on the best course of action to take when listing your property for sale. If you're looking to sell your home, or are struggling to find buyers with your current strategy - get in touch with our team today. We can be at your property today to carry out a free valuation and help you get your property journey back on track and in time for the post-Christmas property surge. Get in touch today by calling us on 01793 611677.